/files/1038739/peace-freedom-justice-full-score.pdf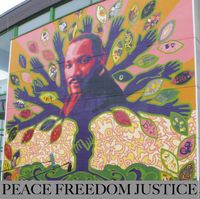 PEACE FREEDOM JUSTICE: 70 years  after the Emancipation Proclamation was written into law by Abraham Lincoln, racism, segregation and lynchings still  plagued America.  Black soldiers returning from the killing  fields in France  who fought  just as hard for their country as their white brethren came home to the haunting specter of inequality.
T'was into this world that Martin Luther King, Jr. was born on January 15th, 1929.
SOLO 1:  THERE'S NO PEACE IN THE WORLD 
THE BASIC (choir)  PEACE FREEDOM JUSTICE 
SOLO 2 :     THERE'S NO JUSTICE IN THE WORLD 
SOLO  3 :   THERE'S NO FREEDOM IN THIS WORLD 
EVOLUTION N° 1 : PEACE FREEDOM JUSTICE 
THE OPPRESSED MUST HAVE THEIR FREEDOM 
AND THE OPPRESSORS THEIR FREEDOM TOO 
EVOLUTION N° 2 : PEACE FREEDOM JUSTICE  (CLAP HANDS) 
ONE DAY WE WILL BE FREE, FREE... 
I WILL BE FREE... 
OH SO FREE, YEAH... 
WE CAN BREAK THE CHAINS OF MISERY 
AND FIND FREEDOM, WE ALL NEED FREEDOM 
SOON WE WILL BE FREE, FREE, FOREVER WE WILL BE FREE 
THE BASIC: PEACE FREEDOM JUSTICE
©  1998 John Meldrum